Peter Castle, UK
1/18 scale Supermarine Spitfire MkXIV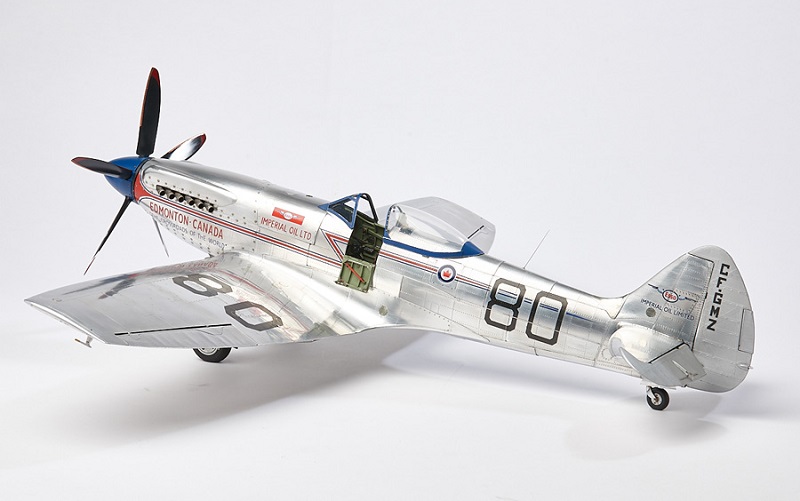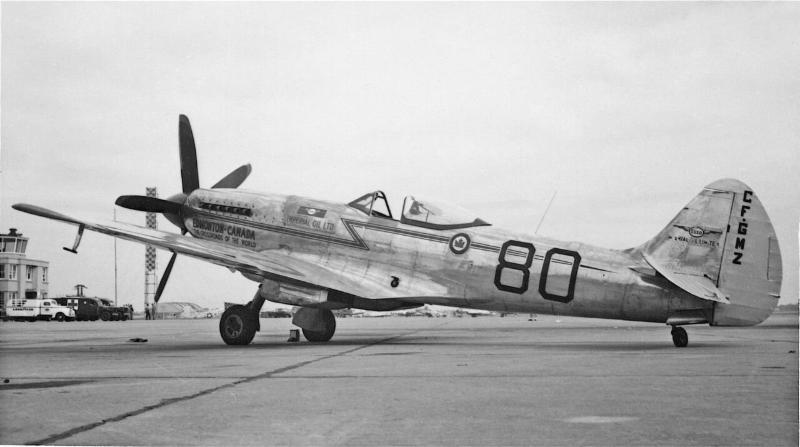 ---
This model represents TZ138, a MkXIV Spitfire flown at the Tinnerman Air Races in 1949. It is quite an enigmatic story as legend has it the pilot James McArthur RCAF and the aircraft (& third place winnings) disappeared the day after the race. The aircraft turned up in Florida 10 years later and is still extant as C-GSPT in Canada. It is maintained in airworthy condition, but has not flown in at least 10 years.
The model is 1/18 scale with a wingspan of about 60cm and is based on a desktop fibreglass model by a Czech company called HpH. It took around 2 years and is skinned in 0.08mm lithoplate. Many build disciplines were used including custom photo-etch parts for some details, 3D printing for the Spinner & Wheels and custom decals for the Esso & Imperial Oil logos.
It was entered in the IPMS Nationals in Telford UK in 2017 and won Senior National Champion and six other awards including best aircraft and RCAF Trophy. The next project is a P51C "Lopes Hope 3rd" which should be complete in about 9 months.
.....
For those of us who are accustomed to spending hours at a workbench wrestling with tiny widgets and boxes of whatchamacallits, few things are so refreshing as examining a model in a different scale and of a different genre. There is something about the different-ness, something about having to adjust our vision in order to see what is actually in front of us rather than what we expect to be there. Encountering the glistening photos of Peter Castle's "Mustang" surely had this effect on us here at Model Motorcars.
To say that not much can surprise us in the way of Pocher models would surprise no one, but it may be news to some model builders that having expertise with our Pocher favorites does not necessarily give us the "inside track" when it comes to other scales and subjects. For us, a 1:18 scale replica of an aeronautical icon can be as refreshing and surprising as a Pocher model is to a gathering of the CCCA or the AACA—there is no doubt what it is, little question that we recognize it, but beyond that we must start from scratch in our analysis. Just as the restorer of a 1:1 Packard needs an attitude adjustment when confronted with a Pocher, we here at MMLtd. need to adjust our bi-focals for a 1:18 fighter plane.
Let's see now— shiny, lots of rivets, and a propeller at the front. And look at all those doohickies inside the cockpit! And can you imagine making all those rivets. And how did the builder ever get such a great finish that looks exactly like polished aluminum? Wow, that canopy sure is clear! What scale is this?
After about twenty minutes of silliness, we can manage to get down to business and to try to make sense of what we are trying to see. This is not easy. This process is made all the more difficult by the fact that we are trying to do several things at one time. Show a model to a model builder, and the natural reaction is to try to figure out how the model was done. Always looking for building tips, we are searching for techniques that can help us with our projects, and a successful model is dissected for possible hints to new methods. At the same time, we are comparing—in this case comparing scales. Look at those tiny instruments, and look at all those teensie, tiny rivets. And, let's face it, we are helplessly competing, picturing the project on our bench among our tools and under our care. Gee, the only way to do that assembly is with magnification!
None of this scrutiny lets us actually see what is in front of us, but if we are lucky, after a while our preconceived ideas and our familiar context can be put aside long enough to take in the simple joy of experiencing a miniature. If we can do this, we can come a bit closer to considering the real magic of all successful models: why.
Thank you, Peter Castle, for sharing this wonderful model with us.