A huge 1:3 scale functional kit of a classic Porsche racing engine!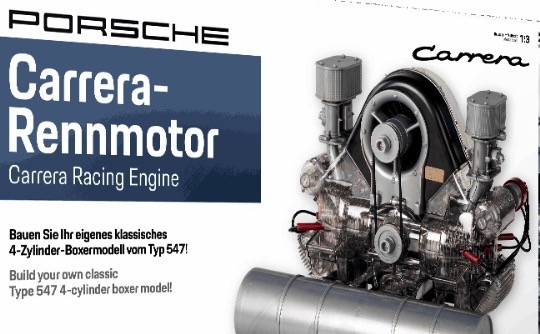 Brady just built this new kit of the classic Porsche Racing four cam engine used in the 550 Spyder, 904 GTS and 356 Carrera. Everything fits well and the large size (12" x 12" x 12") allows for almost unlimited extra detailing. The plastic castings are extraordinarily clean, the screwed assembly requires no glue, and the electrically powered internals with genuine engine sounds make me grin every time I press the button. Even the box and assembly manual are things of beauty.
Minor complaints: the plated screws used for assembly are awkward looking and too visible in places, especially on the cam covers, but can replaced with more appropriate bolts without too much effort (see extra detailing photo below). The very large size also makes it look simplistic in places, but also means adding extra details <> is a breeze. Painting all gray plastic parts with cast aluminum automotive paint greatly improves the look of the flywheel, exhaust, and carbs. For the size, functional details and price it is still amazingly fun.
300 pieces, approximately 4 hours build time, assembly with screws (no glue!)
functional crank shaft, pistons, LED tipped sparkplugs, gear driven cams, valves, and fan.
clear cylinders and cam boxes let you watch all functional parts driven by the included electric motor; the spark plugs light in sequence, and a sound recording of the real engine starts, revs, and settles into a throaty idle
both racing and road car exhausts are included a gorgeous 120 page color book produced by the Porsche Museum chronicles the history of this famous engine and the cars it powered, and concludes with the clear and detailed assembly manual
Part No. P101 $225.00 kit.