Cherish Your Models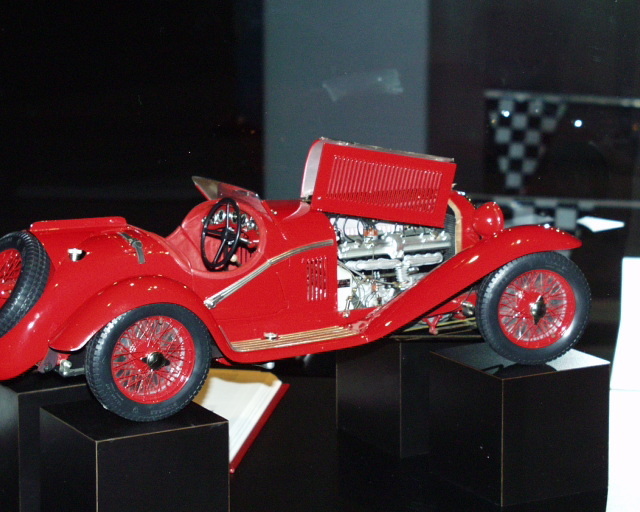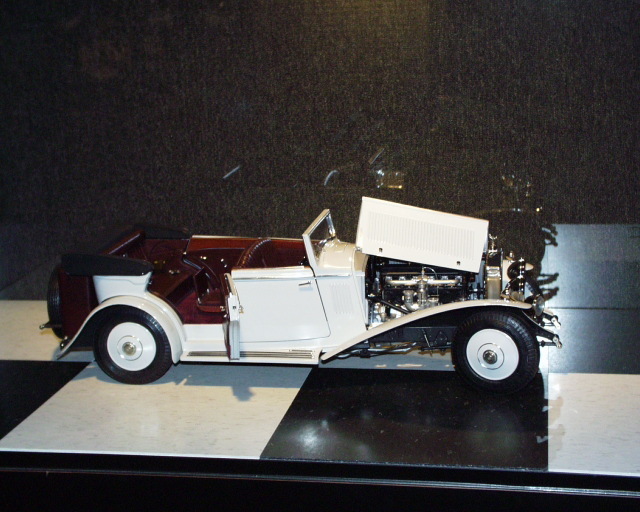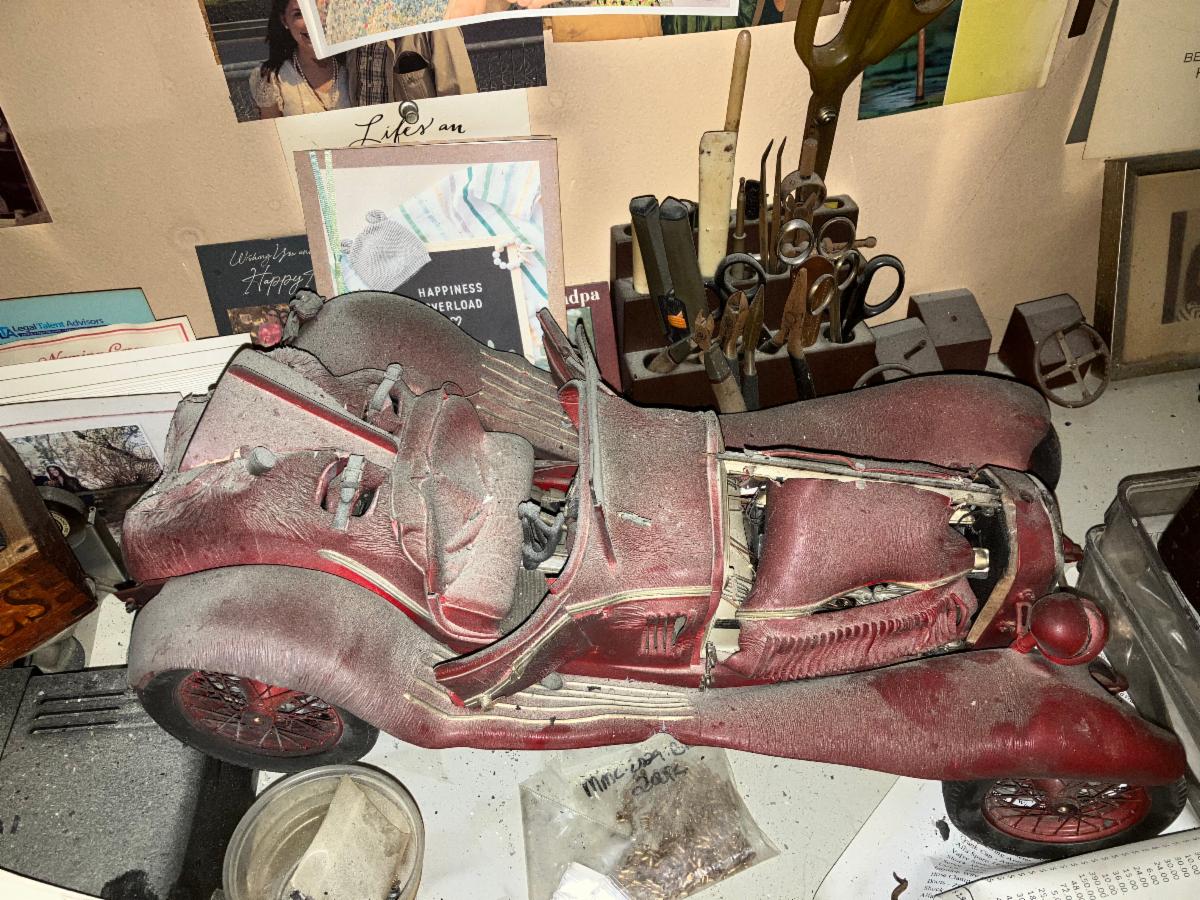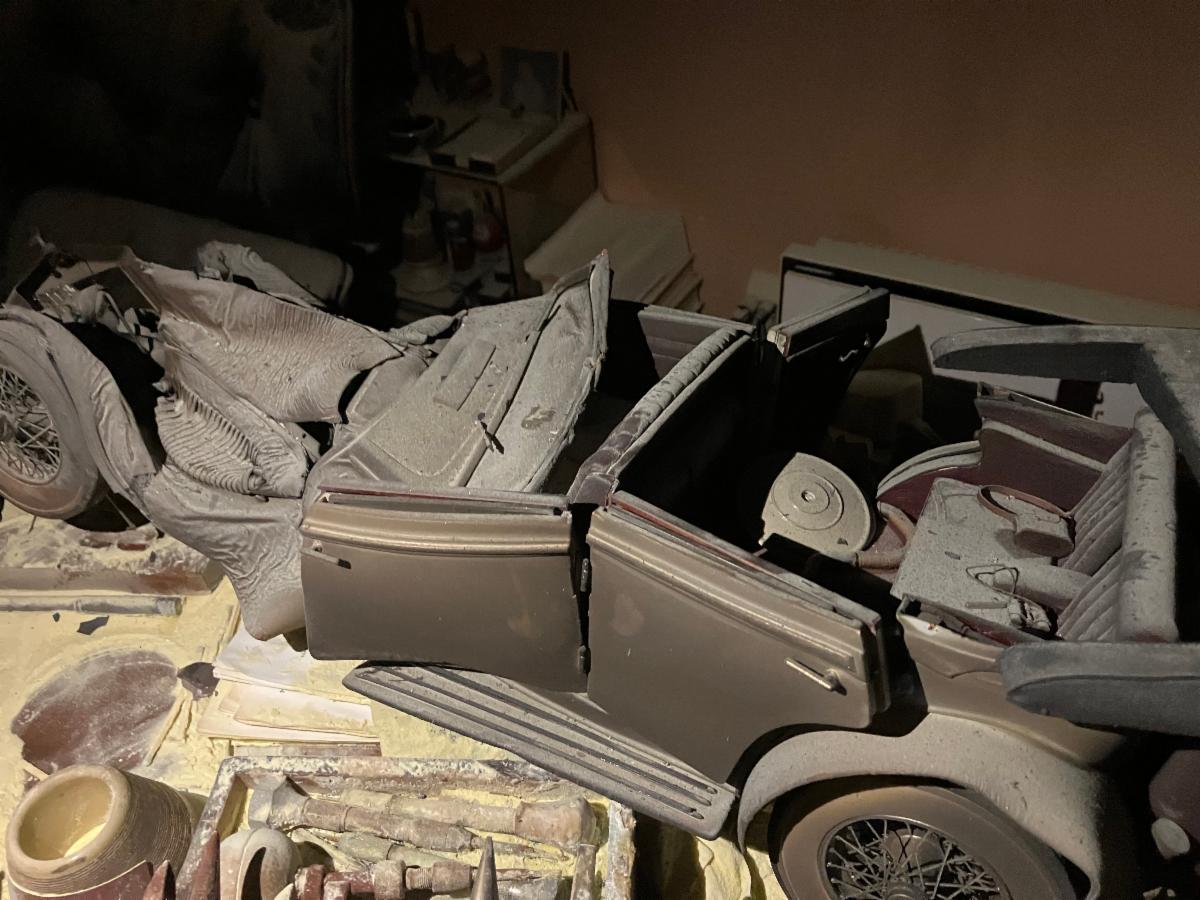 We have often admonished fellow Pocher builders to take photographs of their models, and we have even recommended taking pictures of construction of their models. The images above are a grim reminder that even for Pochers, the world can be uncertain and dangerous. There may come a day when all you have to show for your efforts are a few images safely stored in the Cloud.
This is all that remains of the MMLtd. 8c 2300 Alfa Romeo Spider which was based on the former Briggs Cunningham car in the Collier Collection in Naples, Florida. The model was used in magazine ads, on business cards, and appeared in Scale Auto Enthusiast, the DuPont Registry, and Car Collector Magazine. It also was seen at the second Amelia Island Concours, Meadow Brook Hall, and was featured in a show at the Daytona Beach Museum of Arts and Sciences.
The second image is of our 'Gentleman's Express" which was based on the Pocher Torpedo. Among the changes to the model were Sedanca fenders to replace the more formal wings of the Torpedo, complete engine detailing, walnut wood work, leather seats, and, along with every detail part from our catalogue, a splendiferous paint job by David Cox. The model was shown at Amelia Island, Meadow Brook Hall, and several local shows including the Daytona Beach Museum of Arts and Sciences. Like the Alfa, it was featured in magazine articles and advertisements, and was a mainstay on our business cards.
Each model represents thousands of hours of research and construction, and each played an integral role in the development of Model Motorcars. These two models were the only MMLtd. Pochers retained of the sixty models produced. The rest are in private hands.
This is a sad day for Model Motorcars, but these images should be a strong incentive for the rest of us to take pictures of our models while they are looking their best.
Our Alfa and Gentleman's Express will be missed. RIP.
---
Because of the seriousness of this month's Bulletin, we have decided to skip our Feature Exhibit. We'll be back next month!
Sunday, 2/5/23, Marvin had a fire in his workshop/ office.
We expect to be delayed in most of Model Motorcars orders, not Scale Hardware, as that inventory is in a different location.
And, Marvin put out the fire…and is okay.
Thank you for your understanding..
Part No. Z055L $50.00 Real Leather (large)
AN IMPORTANT NOTICE TO OUR VALUED CUSTOMERS:
Shipments of new orders may experience temporary delays. You may continue to browse and place orders on our site, but please be advised that it may take longer than usual to ship your order. We sincerely appreciate your patience. Thank you for continuing to support our small business in these challenging times!
March's Feature Exhibit
Jon Evans's
Alfa Romeo Monza
The great thing about Model Motorcars is the fact that we get to meet such dandy people and to see what they are getting up to. This month we have the pleasure of revealing an Alfa 8c 2300 Monza which can serve as inspiration to us all, and Jon Evans has told his own story with his thorough photographic record.
Most of us are well aware of the Pocher Alfa Romeo in its grand prix form, and many of us have
tried our hand building one version or another. After thirty years, the kits have managed to build up quite a reputation, so there is no reason rehash the challenges and shortcomings. Instead, we are pleased and delighted to introduce the following photographs into the record as proof that at least one of these Pocher Alfa kits has been the launch pad for a positively wonderful result.
It should be noted that part of the success of this model is the photographic presentation. Just the idea of using monochromatic images should be cause for celebration, and should inspire us all to give it a try. Details like an aluminum shifter gate, the floor and pedals, and the firewall mounts which would be informative in color are positively magical in black and white. Of course, discerning some fine details are enhanced by color, but few color photos can so successfully evoke a period photograph. Combine that with a scale back drop (whose great idea was that?) and the result is sure to be a success.
Whether or not there is a prototype for the sky blue (Ford Bermuda Blue, we are told) paint, it is clear that the paint works beautifully in either color or in black and white, where it appears white, as if by a conjuring trick. Very clever, whether intentional or accidental. The images of the rear of the instrument panel are memorable and impressive, and the idea of hiding data behind the seat back support borders on the obsessive, which, of course, is fine with us.
As remarkable as this Alfa is, we at Model Motorcars want to stress that the great lesson here is that taking pictures of our models is a vibrant and inspiring component of our hobby, not least because it is through images that we can share our passion for miniature cars. Digital images can transform a completed model from a completion to a beginning, from a personal accomplishment to a compelling invitation. A good thing, to be sure, but even better, digital images can transform our models into what we had dreamt in the first place.
An Update!
Shel Urlik's1/8" Scale 1933 Bugatti 50T Engine in Aluminum
Shel has added some photos and new text...wonderful!