Small Details Often Stir the Best Conversations!
At first glance, major components of a model appear to be the discerning factors that separate great models from average. However, it is the smallest details that catch the trained eye and clearly portray outstanding work.
And, while many of these details fall inside the engine compartment and are often deemed unnecessary or obsessive, we truly believe they are some of the most enjoyable tasks to tackle and, over time, display and brag about!
An example of such a detail is hose clamps. Sure, a model can be completed without them and almost no one will miss them. However, incorporating them is a fun project and a detail that will stand out and provide many hours of enjoyable model talk!
Our prototypical Hose Clamps (Jubilee Clips to the British) can be used in any 1:8 scale model. They are photo-etched in stainless steel, with a thickness of .0025" (.06 mm), and are sold in sheets of 12. They are very easy to install and will take any model to a higher level instantly!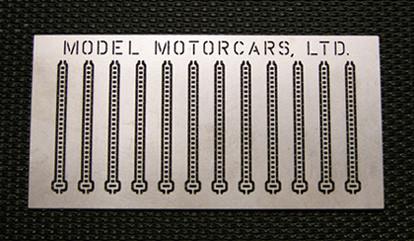 For detailed usage and installation instructions click here...
AN IMPORTANT NOTICE TO OUR VALUED CUSTOMERS:
Shipments of new orders may experience temporary delays. You may continue to browse and place orders on our site, but please be advised that it may take longer than usual to ship your order. We sincerely appreciate your patience. Thank you for continuing to support our small business in these challenging times!
June's Feature Exhibit
Ken Krausfeldt's
1965 Corvette SCCA Race Car Model in 1/8" Scale
From the Builder:
I've also been fascinated with the SCCA racecars. So, as I contemplated the necessary rebuild of my 1/8 scale 1965 Corvette model it became obvious to me what the theme should be. But, with minimal aftermarket running gear available, I knew that I had my work cut out to transform the platform-style frame and half-relief suspension of the original model into something that represented a real C2 racecar. Not shown are the steps taken to produce some realism into a the race theme: radio and heater deletes, filling in the rear-fascia exhaust body passthroughs, removal of the molded-in right seat. One of the biggest tasks was to remove, from the original platform frame unit, everything that does not exist in a C2 frame. My previous 1:1 experience, and several reference materials helped determine that path. Once completed, what I had left of the original platform required much fabrication to bring into being the basic frame foundation. Then on to the suspension fabrications and modifications, fuel tank fabrication (carved from a foam block and sealed), fuel and brake lines, battery and hold-down, engine detailing and radiator support. Detailing the cab into race trim proved to be tedious, but successful, with roll cage and racing harness, filling in the area of the removed seat with sheet plastic, and adding the removed lower cab details from the platform frame unit and grafting them onto the cab bucket, and then reshaping the drive tunnel. And, I purchased a very-rough set of scale American Torque-Thrust wheels, and converted them to true knockoff attachment to the hubs (I now observe that I did not remove the simulated lug-bolts in that conversion, which bothers me enough that I'll remedy that soon. Lots of work prepping those wheels since they were terrible resin-casts. MUCH work went into stripping the original body paint, then prepping, repainting, and polishing. I reached out to a custom decal maker for the race numbers and manufacturers race equipment decals (I tried to make them myself with decal paper and my ink-jet printer, only to create some real junk!).
An Update!
Shel Urlik's1/8" Scale 1933 Bugatti 50T Engine in Aluminum
Shel has added some photos and new text...wonderful!