Tools
---
Hand Held and Machine Tools
A large part of the fun of building models is the opportunity to use a variety of tools . We have been collecting specialized tools for several decades and in that time we have offered hard-to-find tools which were, in our opinion, indispensable for building models.
We are proud to announce that Model Motorcars has become an authorized dealer for EUROTOOL, a recognized leader in imported tools. And in keeping with our usual high standards, we will continue to offer only the highest quality available include pieces from Sherline, Wiha, Grobet, Facom to name but a few. We have come to see the collecting and using of tools to be a vital part of our enjoyment of this hobby and we hope these tools will open new doors of pleasure and accomplishment for you too.
---
Sanding Sticks for Tight Spaces and Tiny Corners
We've all experienced that situation when we're at our bench and are working on a tiny part or need to get into a small corner to sand it smooth and just don't have the metal or flexible file that's right for the job. Model Motorcars has the solution to that problem with our new Sanding Sticks and Sanding Twigs.
Our extra-large stick sets com in 120, 180 and 220 grits and are perfect for getting a perfectly smooth finish across broad contours and tight corners alike. And for those really tight spaces you can use our sanding twigs to get a smooth finish on even the smallest parts and areas.
---
Magnetized Phillips Head Screwdriver
These two Tools are essential to building the new Lamborghini Kits. The screws provided are Phillips head and the magnetizing helps hold them! Tap is necessary because many of the holes are not deep enough and some are filled with paint.
---
Splash Guard for Benchtop Polisher
Keep your work area clean and free of flying debris with our new Splash Guard for Benchtop Polisher. Features: Adjustable clear plastic visor. Rubber feet on bottom to prevent slipping.
Small footprint allows room to work without taking excess space on your workbench. Dimensions: 14.25 x 5.75 x 7.5 inches. Weight: 4.5 lbs.
Part No.T108
$39.95 each
---
The Versa-Light
---
Our newest discovery, from Euro Tool…The Bench Polisher
Smaller than a mouse pad… that's the best way to describe this great new polisher from EURO TOOL! This Bench Polisher has pre-lubricated ball bearings and a dust-proof motor housing that makes it virtually maintenance free! The user will not sacrifice quality or speed with this well balanced precision polisher, works with standard wheels and buffs up to 4″.
Includes 2 tapered spindles
2 medium abrasive wheels
2 replacement motor brushes
and features
110 volt, 1/6 HP motor
Variable speed up to 10,000 RPM
One year warranty
Part No. T100
$87.95
---
And to go with your new Bench Polisher… 3M Radial Bristle Discs
3M Radial Bristle Discs are embedded with a long-lasting abrasive material which eliminates the need for messy compounds. Flexible and cool-running bristles are great for hard-to-reach areas or flat surfaces. Clean and remove dirt, rust and oxidation without damaging the underlying surface. These 3″ discs have 3/8″ arbor hole and are available in six different grits. Sold in packs of 5.
---
3M RADIAL DISC HUB – Package of 2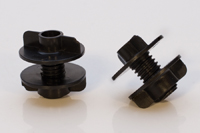 ---
A better Illuminated Pocket Magnifier
Has a 4X Lens with 8X Bifocal Insert. Batteries included and made in the USA
Distortion Free Optical Quality Lenses
Hi-intensity Lamp for bright viewing
Great all-purpose magnifying glass
Part No. T040
$15.00
---
Auto Center Punch
Put your hammers away because this 5 inch spring-loaded punch automatically strikes a sharp blow when pressed down firmly. Hardened and ground alloy steel center point is well-tempered for long life.
Part No.
T083 $7.95
---
The original "The Final Detail" Model Wax
by the treatment
---
Polishing Kit
Each kit includes 6 sheets of cushioned abrasive cloths in 2400, 3200, 3600, 4000, 6000, and 8000 grits, a soft foam sanding block, a bottle of liquid polish and a soft flannel polishing cloth. Use this polishing kit to smooth the "orange peel" surface of a rough paint job, or put a mirror finish on good paint. Works on all painted surfaces, varnished wood, and bare plastics. It is also invaluable for creating varied finishes on raw metal parts, ranging anywhere from a dull sheen to a chrome like shine.
Part No. T081
$25.00 per kit
---
---
Stubby Screwdriver
---
Stainless Steel Anti-Magnetic Tweezers
These are the tweezers we use to hold the nipples for the spokes in assembling the Pocher wire wheels. Together with the Screwdriver below…the job is made much easier!
Swiss made, length: 4 1/2″ (115 mm)
Part No. T046
$20.80 each
---
Carbide Jaw Wire Cutters
We have all ruined a good pair of side cutters cutting music wire or something too hard. Well, no more! These carbide cutters are made particularly for hard wire and feature carbide jaw inserts for maximum hardness. Made in the same method as cutters used by orthodontists for hard wire, handle is PVC cushion grip.
You will get years of service from this tool, which is almost indestructible when used properly.
Handle Length: 4 1/2″ (140 mm)
Part No. T043
$26.95 each
---
Miniature Digital Caliper
Our stainless steel miniature digital gauge is state-of-the-art. Beautifully finished, it is practical and compact. It measures in millimeters and inches (maximum 100mm, 4 inches). Accuracy is assured at 0.01mm. Powered by a single 1.5 volt cell (included) and protected in a high density plastic foam lined case. Length 6 3/4″
Part No. T042
$39.95 each
---
High-Speed Euro Twist Drills
Quality made HSS twist drills made to exacting tolerances. Bright finished, with exactly the proper cutting angle at the tip. Flutes are sharp with the proper spiral and finished outer edges. The finest grade tool steel, tempered for maximum hardness and endurance. Individual drills packaged ten to a see-thru tube and labeled with the drill size for easy identification.
Assortment includes one tube (10 pieces) each sizes 61 – 80 (.3429 mm – .9906 mm) and a hardwood stand marked with the appropriate size.
Lets you store, replenish and retrieve the size you need with ease!
Part No. T041
$112.00 complete set
---
Nut Holder
The perfect companion to our famous Screw Starter. Works the same way…push the end and the prongs open to grab the nut. No more balancing the nuts on the tip of your finger!
Part No. Z003N
$22.00 each
---
Screw Starter and Nut Holder Set
Part No. Z003N
$22.00 each
---
2.0 mm Screwdriver
This is the Screwdriver we have been using for many years. Imported from Germany this high-precision tool features a rotating cap, ergonomic handle and a blade made of high alloy chrome-vanadium-molybdeum steel.
Part No. T038
$5.00 each